CHÂTEAU FONPLEGADE
The purest expression of a complex terroir.
Château Fonplégade represents the purest and most typical expression of our terroir. Enriched with a mosaic of ideal soils and a wonderful diversity of geology and geography, our vineyard is divided into 27 parcels on 45.5 acres. These hand-farmed blocks comprise the artist's palette of our terroir, providing a wealth of flavor components for the development of our wines.
With an impeccable balance between fruit, complexity and aromatic length, this wine is characterized by a sophisticated minerality, consistent from year to year, with soft and supple tannins and a velvety texture. It is made from the estate's oldest vines, meticulously hand-farmed using organic and biodynamic practices to bring out the finest quality in each cluster. Predominantly Merlot, the blend includes just enough Cabernet Franc to imbue the wine with an elegant tannic structure.
Château Fonplégade is aged 16-20 months in 50% new French oak barrels, 30% in 1-year-old French oak barrels and 10% in egg-shaped concrete vessels and 10% in amphoras.
Varietals
A blend of Merlot and Cabernet Franc
Terroir
A mosaïc of Limestone and Clay
Winemaking Program
French oak and concrete vats
Owners
Denise & Stephen Adams

Winemaker Consultant
Stéphane Derenoncourt

Biodynamic Consultant
Corinne Comme
Appellation
Saint-Emilion, Grand cru classé
Estimated Maturity
5 to 20 years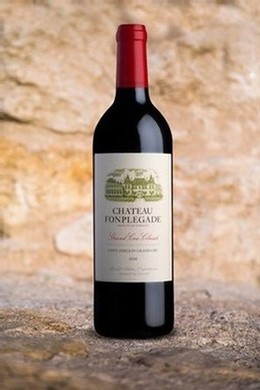 © Copyright Château Fonplégade
Site by WGM